Federal Member for Hume Angus Taylor has congratulated Big Fat Smile's Reynolds Street Community Preschool in Goulburn on being chosen to join the Early Learning Languages Australia (ELLA) programme.
He said the preschool was one of 40 selected across Australia to take part in the government funded trial.
"This is a fun way for children to become interested in a second language early on in their learning. Reynolds Street Community Preschool will be introducing Arabic, with one of the centre's staff members speaking Arabic," Mr Taylor said.
He said the ELLA programme would use online language software, allowing children to learn through play-based apps on tablet devices.
"This is a great example of technology helping regional families get the same access to high-quality early education as their city counterparts."
Reynolds Street Preschool parent Sam Khalil, of Egyptian heritage, is keen to volunteer to help with the programme's introduction.
"Children learn languages best at an early age and Arabic is one of the most difficult languages to learn. I had been feeling a bit alone trying to teach Arabic to my daughter Jaiyanna at home and am very excited that she will be able to learn Arabic at the centre. I hope to volunteer next year and help bring the language to the children," said Mr Khalil.
Centre Director Jo Mavrigiannakis said the staff were already planning opportunities to extend the children's learning and experiences based on the language learning. The language trial will be introduced to the Centre's 3-4 years preschool room.
Reynolds Street Community Preschool has been owned and operated since 2012 by Big Fat Smile.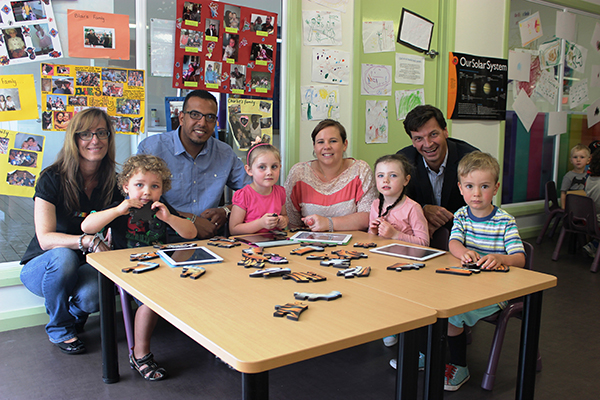 L-R Centre Director Jo Mavrigiannakis, parent Sam Khalil, Early Childhood Teacher Melissa-Rae Oakley and Angus Taylor, with children Rhys Brooker, Phoebe Dalley, Shelby Smyth and Harper Tarplee practising on their ipads before the language trial begins next year.