The education and well-being needs of children is often at the forefront of families minds when choosing primary schools and high schools. Similarly, families choosing a suitable early learning service also need to consider the needs of their family and child as they begin to embark on their child's educational journey.
Given the many choices in early education, choosing an early learning service can be daunting and confusing for families.  Therefore, it's important for families to understand the similarities and differences associated with each service type. Service type names (long day care, preschools, and prep school) often impose various perceptions about what levels of quality education and care are connected with the early learning programs offered. In order to make informed choices when choosing a quality early learning service that best meets the needs of the family and child we've compiled the following summary.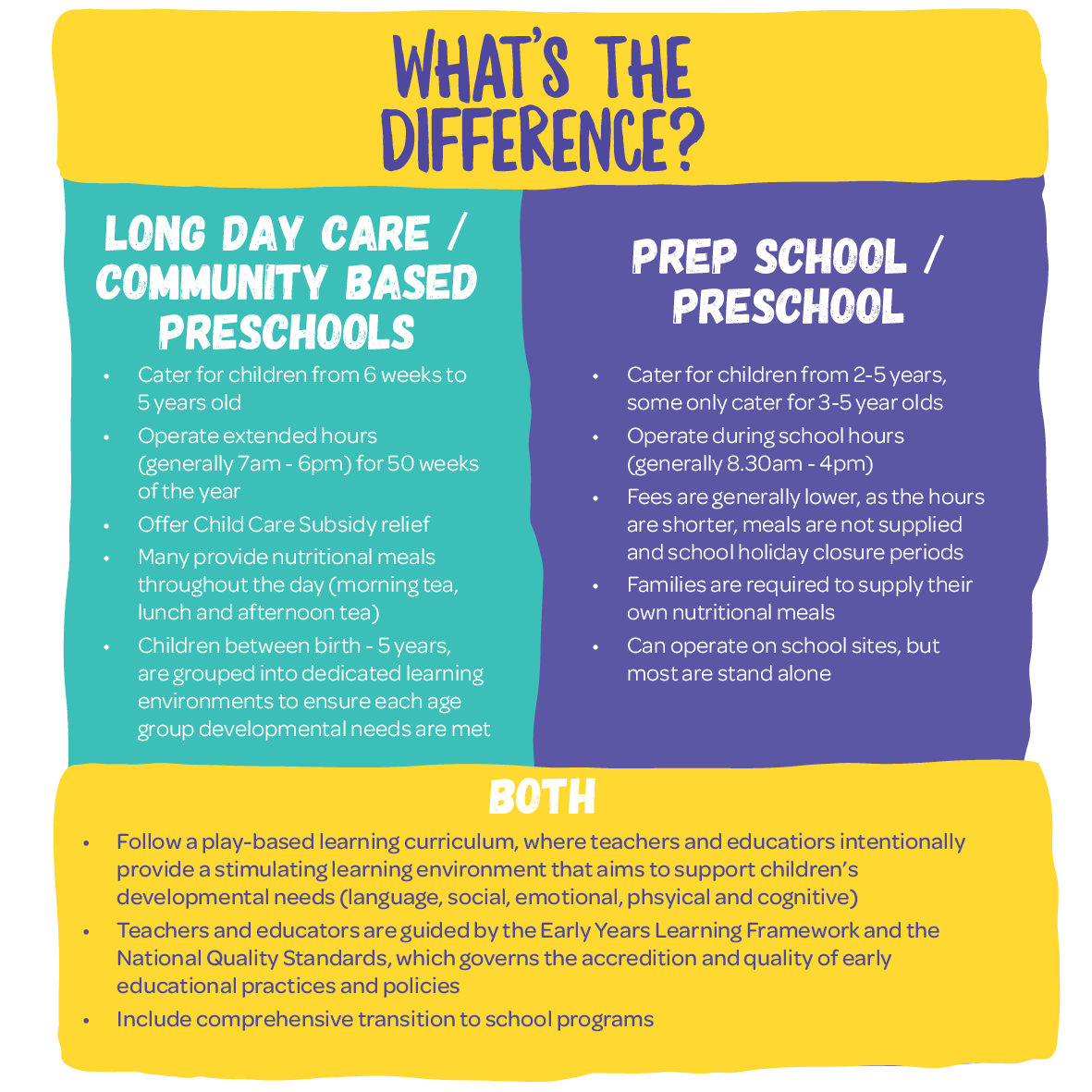 Tackling the misconceptions around early childhood service types
For families, it's important to know that there are no real differences between the types of quality educational experiences offered across these services types. Nor is there a difference in the level of high-quality, qualified teachers and educators that observe, plan and implement educational opportunities to further a child's development. All service types even operate under the same guidelines and regulations. Research indicates that a play-based learning curriculum, implemented across all service types, allows children to learn the foundational skills around managing their emotions, socialising with others, early literacy and numeracy skills, problem solving, independence, physical development, self-help skills, and self-regulatory behaviours.
The main differences lie within the age and number of children they are licensed for, the hours of operation and if meals are supplied by the service. Therefore, families can be reassured when choosing a service, irrespective of being offered shorter or longer hours – the programs offer the same educational benefits.  Families should be encouraged to choose a quality service based on their personal circumstances, and to organise to visit a few services to view and collect information about the educational programs. That is, conduct the same processes you would in choosing a primary or high school for your child.
Families often look at transitioning their children from long day care to preschool or prep school, but this is generally based on the misperception that the words 'preschool' or 'prep-school' conjure up an image of higher quality educational programs.  This is a myth, as all service types provide caring, supportive and educational environments that promote the lifelong learning of young children.